Our
Tuesday Teamie
is
Caitlin Sainio
of
Caitlin Sainio Designs
. Her beautiful crochet leaf appliques were voted team favorite in our Falling for Fall Challenge! Congratulations Caitlin!
Let's meet our Tuesday Teamie as she describes the love of her art:
From Caitlin's About Page:
From thread to lace.... in as many colors as possible.
I learned to crochet as a child, and fell hopelessly in love with thread crochet shortly thereafter. To this day, I find the process magical. I love how the thread feels, as it slides between my fingers. I love to watch the hook flash in and out, creating tiny patterns of knots. And most of all, I love watching those patterns turn into the curve of a petal, the wing of a butterfly, or the crystalline point of a snowflake.

Caitlin Sainio Designs began in 2009 as an excuse to buy more thread and make more lace. Even as it's grown into a successful business, the core mission is the same: it's a place to indulge -- and to share -- my fascination with crochet, with geometry, and with nature.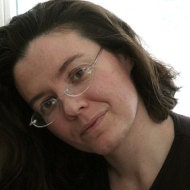 Caitlin
owner, maker, designer
I'm a mechanical engineer-turned-crochet designer. I design, make, photograph, pack, and ship everything in my shop.